Tarrodi Gouging Machine
Clarinet-player Bela Tarrodi started to make gouging machines
already in 1973 for his son Bela Tarrodi junior, principal
oboist in "Östgötamusiken", Linköping, Sweden.
Over a period of almost 20 years these precision instruments
have been improved year after year, and today Tarrodi makes
one of the best gouging machines in the world, to a price that
few, if anyone can compete with.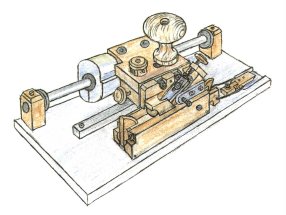 It is therefore understandable that oboists all over the world
asks for these precision instruments, to be able to
improve their playing standard into the highest possible level.
All parts for Tarrodi Gouging Machine can be ordered
separately, or as a complete package including pré-gouger,
cane-splitter, guillotine and metric dial meter.
To place an order, please contact:
Bela Tarrodi, Mjölbyvägen 29, 573 43 Tranås
Telephone: Int +46 (0)140 311 760 (Swedish, German or Hungarian)
+46 (0)13 12 36 01 (Swedish, English or Hungarian)
Telefax: +46 (0)8 661 37 17
---